I had my baby shower on Saturday thrown by my friends. It was really great and I had a lot of fun. I was so happy to see the people there and so thankful that they came to celebrate with us. My mother in law, mother and grandmother were also able to join us. We played games and ate yummy food and cake. I opened presents and got all kinds of goodies. We are set for diapers for a while now. I hope. LOL The grandmas got to open their gifts from baby Wyatt.

On my way out to the shower I noticed that it began to rain. Not heavily as it had been doing off and on all morning. Just a nice light sprinkle. I am sure most people get upset when it rains on special days. But it makes me very happy to see the rain. In my teens a song came out called Holes in the floor of heaven. Steve Wariner sang it. The chorus is:

"
'Cause there's holes in the floor of Heaven
and her tears are pourin' down
that's how you know she's watchin'
wishin' she could be here now
And sometimes if you're lonely
just remember she can see
there's holes in the floor of Heaven
and she's watchin' over you and me"
Ever since then I have noticed when important things happen to me it rains. Graduation, Bryan's birth, our wedding day. It flooded in Nevada the night we got married! LOL So when ever it rains it just reminds me that the loved ones who have passed and can not be here physically are still very much with us for the important events. And so when it started to rain on my way out there I sobbed. LOL But it was a happy cry because I felt them with me.

Between baby showers, gift cards and me getting up far to early for Wal-mart shopping trips, I am pretty sure we are ready for this baby. We have every thing we need. He just needs to bake for another 3-4 weeks before he can come out. 7 at the absolute most! LOL

So I share with you some pics from the shower!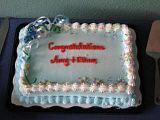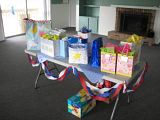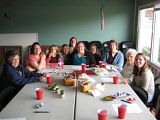 Beth, Tracy and Ruth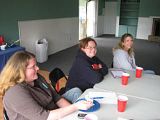 Janet, Candace, Samantha and me


Mom, Grandma and Jane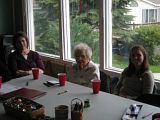 Grandma Judy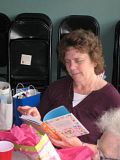 Grandma Janet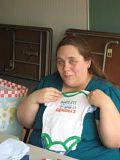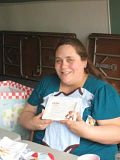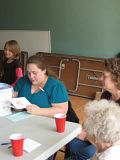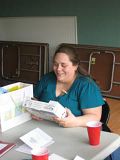 The nursing cover Candace made for me.